Edixa II is a 35mm film rangefinder camera manufactured by Wirgin Kamerawerk in Wiesbaden, former West Germany and produced between 1953-57.
The Edixa I and II cameras are renamed Edina cameras. The Wirgin Edixa I is the same body but a viewfinder camera.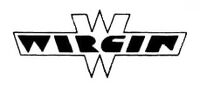 The most interesting part of the Edixas is the characteristic front plate, a metal part that is a mask for the shutter speed scale as well as depth-of-field scale and tube side stabilization element. This part helped to make the lens tube a little more robust than other constructions. This type front plate shows two versions, flat and cast front plates. Also, there are classical front plate versions, and some other cosmetic differences in the production times.